Pack of 2 Natural Wax Jar Candles with Wooden Wicks (<b>Romance + Indulge</b>)
SHIPPING AND DELIVERY

🚚 Express Delivery For Delhi/NCR : 1 Working Day
Delivery For Delhi/NCR : 3 - 4 Working Days
Delivery for Metro Cities : 5 - 7 Working Days
Delivery for Rest of India : 7 - 9 Working Days
RETURNS & EXCHANGE

We hope you will love everything you order from us, but if something isn't quite right, you have 15 days from the delivery date to return it to us.

Our return policy is extremely flexible and customer friendly.

A full refund will be issued to the customer on the following terms -

If a wrong/different product has been dispatched from our end.
If the product is received in a broken condition.

However, if the product doesn't fit into your desired expected decor and you wish to return the product, a shipping fee of Rs 200 will be deducted from the orders to arrange for your return pickup.

You can reach us at care@lighthousecandle.co or at +91 9899-09-09-34 / +91 9899-00-45-34 to initiate any returns.
CANDLE CARE

Trim the Wick: Trim the candle wick to 1/4 inch before each use to prevent excessive soot and uneven burning.
Burn Time: Allow candles to burn long enough for the entire surface to melt, ensuring an even burn and preventing tunneling.
Avoid Drafts: Keep candles away from drafts to prevent uneven burning and soot buildup.
Safety First: Never leave a burning candle unattended and place it on a heat-resistant surface.
Extinguish Properly: Use a snuffer or gently blow out the candle to avoid hot wax splatter.
Keep it Clean: Remove debris and trimmings from the wax pool to maintain a clean burn.
Store Candles Safely: Store candles in a cool, dry place away from sunlight to prevent color fading and sweating.
Be Mindful: Keep candles out of reach of children and pets.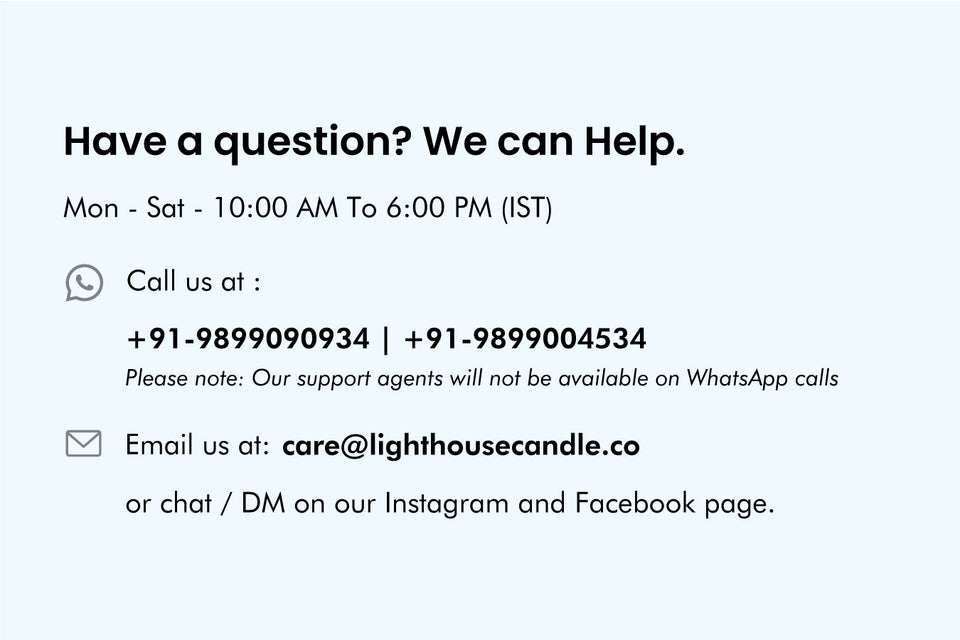 Watch the Product Video :
What's inside the box
This combo comes with an organic handmade box and contains 2 Jar Candles with 2 Complimentary cotton carry bags, 1 with Rose Peony aroma (ROMANCE) and 1 with Vanilla Caramel aroma (INDULGENCE).

Why we love this
Combine the mystique of a candle with the sounds and smells of wood crackling in an open fire. Does that sound too good to be true? 
Once you light up this charming apothecary jar candle , you will hear that old familiar crackling sound as the flame breaks apart the pieces of the wood that make up the candle wick. That can translate to many cozy romantic nights of sitting around the fireplace with your partner, toasting marshmallows and singing a few songs.
Poured with Natural Wax Blend
Not only will these natural wax candles burn cleaner and longer, they also do not leave dark, sooty stains on your walls and ceiling that are so common among paraffin wax candles. With natural wax candles paired with our mesmerising fragrances, you can create the ambiance you desire, making your home a sanctuary you are eager to return to.
Dimensions & Weight
Each jar candle measures 6.5 cms in diameter and 8 cms in height.
Fragrance Notes
Rose & Peony - Fresh rose water, spun pink sugar, creamy vanilla bean with sweet, long-lasting musk and amber bottom notes. You are bound to love this cozy, delightful scent.
Vanilla Caramel -  If you have a sweet tooth then you will surely love this tempting aroma of vanilla caramel, which is sure to make your home smell like a bakery. The blend of buttery caramel and rich vanilla will tickle your senses and you won't be able to resist the temptation. Try not to eat this one.
⊶⊷⊶⊷⊶⊷⋆⊶⊷⊶⊷⊶