Festive Gift Set of Gold Metal Candle Holders - Set of 3
Rs. 1,299.00
Rs. 1,599.00
Tax included.
SHIPPING AND DELIVERY

🚚 Express Delivery For Delhi/NCR : 1 Working Day
Delivery For Delhi/NCR : 3 - 4 Working Days
Delivery for Metro Cities : 5 - 7 Working Days
Delivery for Rest of India : 7 - 9 Working Days
RETURNS & EXCHANGE

We hope you will love everything you order from us, but if something isn't quite right, you have 15 days from the delivery date to return it to us.

Our return policy is extremely flexible and customer friendly.

A full refund will be issued to the customer on the following terms -

If a wrong/different product has been dispatched from our end.
If the product is received in a broken condition.

However, if the product doesn't fit into your desired expected decor and you wish to return the product, a shipping fee of Rs 200 will be deducted from the orders to arrange for your return pickup.

You can reach us at care@lighthousecandle.co or at +91 9899-09-09-34 / +91 9899-00-45-34 to initiate any returns.
CANDLE CARE

Trim the Wick: Trim the candle wick to 1/4 inch before each use to prevent excessive soot and uneven burning.
Burn Time: Allow candles to burn long enough for the entire surface to melt, ensuring an even burn and preventing tunneling.
Avoid Drafts: Keep candles away from drafts to prevent uneven burning and soot buildup.
Safety First: Never leave a burning candle unattended and place it on a heat-resistant surface.
Extinguish Properly: Use a snuffer or gently blow out the candle to avoid hot wax splatter.
Keep it Clean: Remove debris and trimmings from the wax pool to maintain a clean burn.
Store Candles Safely: Store candles in a cool, dry place away from sunlight to prevent color fading and sweating.
Be Mindful: Keep candles out of reach of children and pets.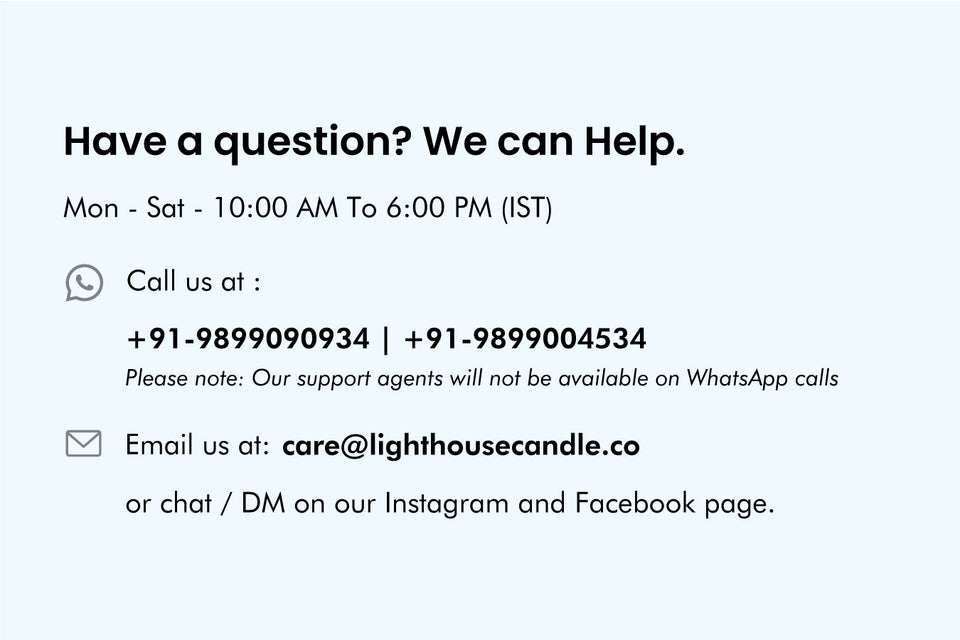 Product Includes: 3 Metallic Candle Holders and Complimentary 6 Free Scented Tealight Candles
Elevate your home decor with a touch of elegance and warmth with our Gold Metallic Candle Holders. These exquisite candle holders are designed to add a touch of sophistication to any room, whether it's a cozy living room, a romantic dining space, or a serene bedroom. Crafted with meticulous attention to detail, these candle holders are a testament to timeless beauty and impeccable craftsmanship.
Why We Love These:
Timeless Elegance: The warm and radiant gold metallic finish exudes timeless charm, making these candle holders perfect for both contemporary and traditional settings.

Versatile Sizing: Our set includes three different-sized candle holders (small, medium, and large) to suit a variety of candle types and styles. Mix and match or display them together for a harmonious visual impact.

Sturdy and Durable: These candle holders are made from high-quality, durable materials to ensure they stand the test of time. Each one is designed to securely hold your candles and provide a safe and stable platform.

Thoughtful Design: The design features intricate details, including graceful curves and a wide, flat base, which not only enhances their aesthetic appeal but also prevents any wax drips from spilling onto your surfaces.

Endless Decorating Possibilities: These candle holders are versatile and can be used to decorate your home for various occasions, from cozy evenings to special celebrations. Place them on a mantelpiece, dining table, or any other focal point to create a captivating ambiance.

Gift-Ready Packaging: Our set of candle holders comes in an elegant gift-ready box, making it a thoughtful and delightful present for weddings, housewarmings, or any special occasion.
These Gold Metallic Candle Holders are more than just decorative pieces; they are the embodiment of refined luxury and a testament to your attention to detail in home decor. Create an inviting atmosphere with the warm glow of candlelight and transform any space into a sanctuary of serenity and style.
Upgrade your interior design with these holders and experience the magic of candlelit elegance. Order yours today and start enhancing the beauty of your living spaces with a touch of radiant sophistication.