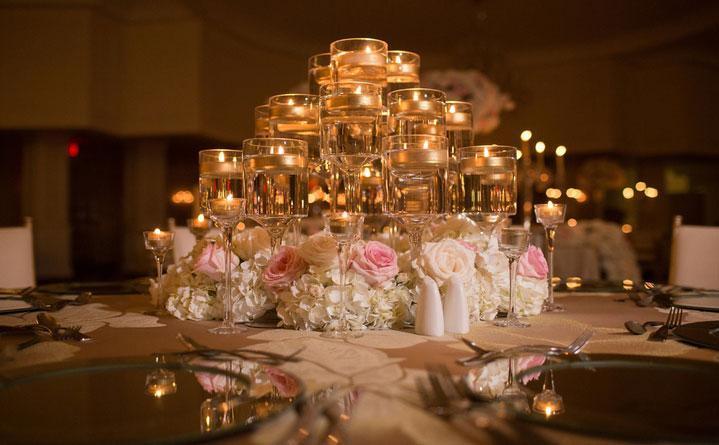 5 Ideas for Gorgeous Centerpieces with Floating Candles
The décor trend game is going really strong these days and people have now started coming up with creative ways and ideas to make their parties, weddings, and homes more appealing. Candles are no more a thing only to be used for lighting but they're rather becoming an epitome of class and luxury. When it comes to floating candles, they are the most versatile type of candles, which can be used for enhancing the appearance and reflecting the décor theme of any space.
The submerging of fire and water creates an aesthetically appealing arrangement. The flickering of candles creates dancing reflections on water, which cast a spell on you- captivating your eyes and soul with the magnetic aura.
You must have witnessed centerpieces created with floating candles, which appeared to be like they have been done by the pros but did you ever ask for a reality check on that, like how much efforts were actually put into that?
The answer is no, it isn't as complicated as it seems, what you have to do is decide the type of ambiance that you want and where you have to place it. This gets half of the job done, now that you know what you want so the ideas below will make start making sense to you.
1. Welcoming Centrepieces for the Hallways and Entryways
The first thing that your guests notice when they enter your home or wedding is the decoration of your entryways and hallways. As they say, you never get a second chance to make first impressions, be sure to make the most of it. Take a ceramic bowl, place it where you want to create a centerpiece. Start off by decorating flowers and their petals on the boundaries so the vessel sits in the middle.
You can make layers with different colors of flowers, for example, orange-red or red and white.  Fill the bowl with water, put some flowers inside and top it all by placing scented floating candles, depending upon the size and bam.. it's ready to illuminate your surroundings.  Just in case you have a fountain, fake pond or a centerpiece at your entryways, which is capable enough to place floating candles then decorating it will do wonders for you.
2. Setting up a Romantic Ambiance for Your Partner
If you have been looking out for ways to woo your partner in the bedroom, then this one is surely a catch. Candlelight adds a warm glow, highlights best features and for creating romantic vibes; you can go for rose scented floating candles. Just take assorted glass vases, drop some intense red roses or carnations, you can use different colors for creating layers. Pour water and add some floating candles on top to get the look.
3. Lighten up any Poolside Wedding or Party
Who doesn't want to kiss the love of their life in the middle of a beach, surrounded by sunshine, and water? But not everyone is lucky enough to organize a destination wedding. What we can do is bring some fantasy to poolside wedding. You can start by dropping some flower shaped floating candles in the pool or you can opt for lightweight flower shaped tealight holders and place floating candles inside them. You can also add some petals in contrasting color for creating an enchanting ambiance.
4. Floating Candles as Centrepieces for the Living Room
A living room is like a hot spot of your home, where you chit chat and lounge with your family members and friends. You can make it more warm and welcoming by adding a centerpiece, from wooden, glass or stone you can choose any type of vessel, fill water and place some ball floating candles.
5. Enhance the Decor of the Bedroom
Choose a glass, wooden or a porcelain bowl. The shape and design of your glass bowl is critical if you want to make a visually pleasing floating arrangement. 
After pouring in distilled water into the bowl, make your floating candles float inside the bowl. If you want your candles to sparkle, you can add marbles, crystal stones, or shiny coins in the glass bowl. You will be able to create a colourful rainbow effect once the candlelight touches the shiny stones. Do not think twice before adding some flowers in the bowl in order to create a sparkling flower bouquet. Just make sure that the colors of flowers will match the colors of your candles so you can get the right effect. You can also use fruits such as sliced oranges as highlights for your arrangement. 
Mount this centrepiece on your bedside or the dressing table. This will make the perfect piece of interior designing for your bedroom.
Showcase your exquisite taste with floating candles and add a sophisticated charm to your home; express your creativity with endless possibilities of classy, elegant decor. Check out an expansive range of floating candles at www.lighthauscandle.com/collections/floating-candles