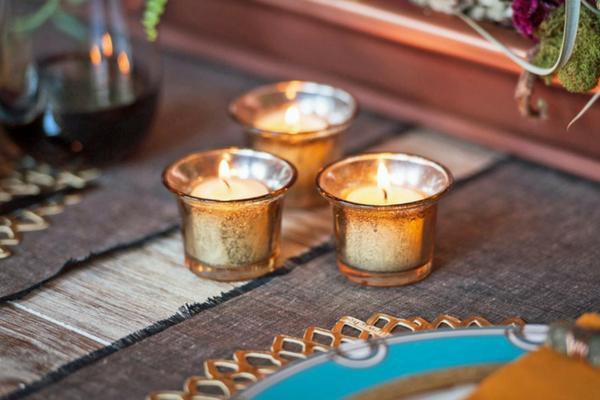 5 Reasons Why Votive Candles Can Glamourize Any Wedding
A wedding is one of the biggest celebrations in any couples life, it's an occasion where family and friends gather up and participate at the beginning of a new journey. What makes the wedding more charming and lively? Any guesses? It's the venue and décor. But of course not everyone can book luxury venues for their wedding but you can surely give a luxurious makeover to any venue. You can reflect your personal taste with the type of your wedding décor, for example, if you like neutrals and simple things then you can go for a contemporary décor, if you like earthy tones then you can opt for a rustic décor and for those who like eye-popping colors can go for a dramatic décor. We will tell you a décor accessory, which is so versatile that it can be incorporated with any type of décor, its votive candles. Here are five reasons why votive candles are capable of glamorizing any wedding:
1. Can be Used for Creating Amazing Centerpieces
Votive candles feature a compact design and can help you in reflecting the theme of your wedding if you incorporate them with other décor accessories. You can use them to line your wedding aisle, can create table centerpieces by placing them in a group with other décor accessories like flowers and indoor plants. You can also use a combination of contrasting colors or lighter and darker shades of the same color for creating a more dynamic look.
2. Can Be Paired With Any Votive Candle Holder
The market is flooded with trendy votive candle holders and they're available in a wide variety of styles and colors to complement your wedding. From mercury speckled metallic votives to the ones with intricate cut-out details, these votive candle holders along with votives will create mesmerizing flickering reflections at your wedding.
3. Can Be Used for Giving a Personalized Touch in Wedding
If you are looking to give a personalized touch to your wedding then you can go for personalized glass votive candles featuring you and your partner's name or thank you for attending the ceremony along with the date of your marriage. Use these glass votive candles as centerpieces on dining tables along with cute notes or flowers, you can also use them as wedding favors. 
4. Ideal for Both Indoor and Outdoor Spaces
No matter if you are planning your wedding in closed or open spaces, votive candles will complement the décor either way. In indoor spaces these candles can be used in a group to form centerpieces or with wall votive candle holders and hanging chandeliers. You can use hanging votive candle holders for gardens and other outdoor spaces, you can also use them for decorating the poolside area and sidewalks.
5. Space Friendly and Mess Free
Sometimes people drop the idea of table centerpieces because they're huge, need a lot of time for assembling and create a mess if the table shakes. Here, we have the simplest yet functional solution for you in the form of votive candles, incorporate them with classic votive candle holders and other décor accessories for a magnetic appeal. Moreover, they're easy to place and remove, they won't ruin your exclusive furniture pieces. Apart from tables, you can use them on the floor or any flat surface.
If your or a closed one's wedding is around the corner then we will surely help you to pick the best wedding décor candles. For those looking out for premium quality votive candles but were not fortunate enough to find the suitable ones then browse through Lighthaus Candle at www.lighthauscandle.com, showcasing a boutique range of aroma candles.