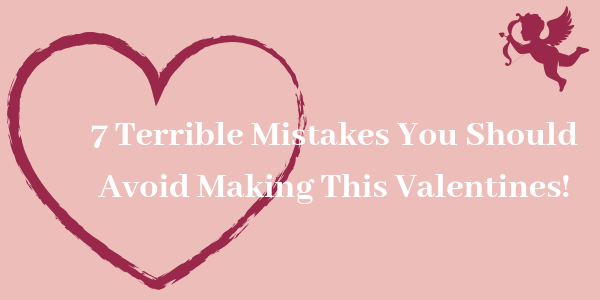 LIGHTHAUS : 7 Terrible Mistakes You Should Avoid Making This Valentines!
We don't see much chivalry these days but chivalrous men are a turn on for any woman, especially during the initial stages of any relationship, whether it's opening the door, pulling the chair, walking your date to the house or offering your last slice of pizza. But we all know that once you get something, its value decreases in your eyes and you start seeing it in the ordinary light. The same goes with relationships, men show their best sides, do all the hard work when they have to lurk a woman in a relationship but once they get into a relationship, and they just change. After a while they probably have no time, don't make any efforts to please their women and forget the fact that, if they don't – someone else will.
We all have been through a phase like this and the worst thing happens around Valentine's week when couples make the shittiest mistake unknowingly that it might really make their partner's feel awkward or embarrassed. So, if you want to steer clear of making those mistakes then here we present you with 7 things you should really avoid doing this Valentine's Day:
1. No Valentine's Themed Merchandise. Please
 We know you might get tempted to buy those typical Archie's Valentine's gifts that they keep repeating every year. Please, stay away from those plushy teddy bears with hearts, couple statues or those long 99 reasons why I Love You greeting card. It's totally okay to buy these things but they might appear impersonal because they're too mainstream. They all land up in the list of last minute gifts and your partner might think that you make zero efforts for them.
2. Stop Doing Ctrl + C and Ctrl+ V or Buying Greeting Cards with Long Messages
Don't expect a greeting card with messages or those mainstream poems and sayings do the talking for you. Dare not copy paste those messages in the captions of your couple pictures, we know that not everyone is blessed with good writing skills and not everyone is so expressive but all you need to do is just pour your heart out. Create your own personalized valentine wishes or captions, mention about how you first met, when you realized that he/she is the one and why you see them as your perfect partner.
3. Not Planning for the Dinner in Advance
Okay, let's accept the fact that most women get confused on being asked: "where do you want to eat?" But that doesn't mean you will keep the plans hanging in the air and would ask them where you want to do for the dinner? It's as useless as G in Lasagna, instead of waiting for her to tell you where she wants to eat, just think about her favorite food or drink and book a table in advance at that restaurant, bistro or café.
4. Don't Get into the Trap When She Says It's Just Another Day
 In case you've been with your partner for so long and Valentine's Day seems like another day bringing no excitement at all. We will suggest you to at least acknowledge that special someone by expressing your feelings and love for them. Don't treat this like just another day, maybe try to bring that spark and passion again by recreating all your special moments and memories. Take her to the same restaurant you took her for the first day, women can cook their partner's favorite dishes that made him fall in love with you even more.
5. Don't Start Swiping Right On Tinder!
 To all the singles, desperately waiting to mingle, please don't lose hope. And don't start swiping right on tinder because you don't want to end up being alone on Valentine's Day. We aren't saying that Tinder is not a good option but you should not let your loneliness get the better of you. Keep your standards high, you're awesome and you deserve some real shit. So, take yourself out on a dinner, for a spa or buy that awesome gadget or dress that you've been lurking on for a while.
6. No Blind Dates
 If your best friend is super excited about valentines and he/she is planning to go on a double couple date by fixing a blind date for you with one of their friend, cousins, and friends of friends, then run. No more awkward blind dates, just don't let your best friend play the emotional drama card on you. Say a clear and loud "NO".
 7. Say Goodbye to Being – Close-Minded
 Women are now being treated as equal to men, thanks to all strong women who influenced everyone and brought this change. Now, we see women at the front of every revolution but when it comes to dating, we don't know why women want that advantage of being a woman. If you're a woman and drooling over that hottie for a while, please for god's sake "Make A Move", men asking you out for a date is the thing of past now, start taking lead. Men also want to feel special just like you, they also want someone to pamper them and keep up with their shit, and it's just that these species have a hard time expressing things. So, this Valentine's just ask him out for a date, the worst he can do is say no. So, what? At least you won't have any regrets.
We hope that the above advice will save you from making major mistakes on this Valentine's Day. If you liked this article, share it with your friends and show some love in the comment section.