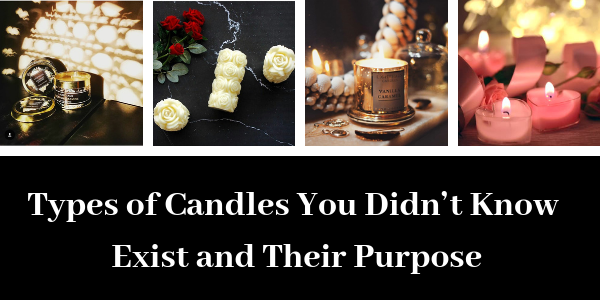 LIGHTHAUS : Types of Candles You Didn't Know Exist and Their Purpose
Candles are now becoming a trending home décor accessory whether for enhancing the décor appeal or to make the living spaces warmer. People have literally fallen in love with scented candles and are using them for making their regular lives more comforting. They turn out to be one of the best additions to any home, office, party or event. If you're also aww struck by candles but don't know which type of candle to buy for your living spaces then here we bring you all the types of candles that exist and what makes them unique:
1. Jar Candles
If you have been resisting yourself from buying candles because they are very messy then you should try your hands on jar candles. Jar Candles have become one among the most chosen candle types because they come with the benefits of all candles without the risk factor of dripping wax. Some benefits of the jar candles include that they're safe to use, do not need a candle holder to burn. They come with a longer burn time, retain strong scent throw and their jars are reusable. You can either use those empty jars as tealight or votive candle holders or as simple storage jars.
2. Pillar Candles
There's one type of candle that appears to be the most elegant, which is so versatile that it is used everywhere from weddings, events or to enhance the décor of the home. Here's a hint – they're tall, they can be scented or unscented and moreover, they do not need a stand for burning. Yes, we're talking about pillar candles; they come in an extensive range of size, design, shape, and colors and they also do not let you down when it comes to the décor part. They are also one of the most bought types of candle across the globe. Pillar candle can enhance the overall ambiance of any living space even when they're not burning, they come with great fragrance and are very long lasting. Pillar candles can be placed solely or in a group and can be used in any room or occasion including wedding, events, reception or parties.
3. Taper Candles
The perfect idea for a romantic date is a candlelight dinner, isn't it? Ever wondered why it is considered to be romantic and why there is only one type of candles that are used for candlelight dinners? The candles are known as taper candles and they feature a long structure that puts your face in the highlight, the warm and soft light makes everything look more pleasant- especially your partner. The facial lines are smoothened, the pupils are dilated, and your eyes look bigger, these candles can bring an added charm to the ambiance of any living space.
Taper candles are widely known as dinner candles and used for dining tables as centerpieces because they do not drip and ruin the exclusive furniture pieces. There is more substance to taper candles than being categorized as dinner candles, these candles complement any décor type if paired with the right type of candle holders.
4. Tin Candles
Scented Travel Candles are becoming a thing nowadays, it could be carried while you're on a business trip, solo tour or a romantic getaway with your mate. No matter how beautiful a destination is, you always end up seeking comfort and warmth of your home. A scented tin candle would do wonders for you, whether it's shooing away your jet lags during a business trip or making your hotel room more welcoming. You can also use it to spice up the romance during a romantic getaway, just light up a rose scented tin candle and order some wine, chocolates, and flowers while your partner is taking a shower. This will surely melt their heart and make them drool over you.
5. Votive Candles
There's something magical about things that emit light whether it's a ray of sunshine, majestic fireflies or moonlight. The light tells a story that everyone is keen to listen, it's something more than just to lighten up the spaces – it captivates the soul and brings joy to those who are seeking it. But there's no way that you can illuminate your home with fireflies, sunshine or moonlight whenever you want but rather you can add a tinge of magical spark with votive candles. Votive candles have been there for a long time and now they have become a necessity or décor element in every home, wedding, event or party. The market is flooded with these candles, whether it's scented or unscented ones. Plain glass votives are getting too mainstream nowadays and interior designers are introducing designer glass votives with a splash of metallic tones and eye-pleasing colors. If you are looking to bring a new dimension to your home, then you can surely achieve it with the help of glass votive candles.
6. Floating Candles
The décor trend game is going really strong these days and people have now started coming up with creative ways and ideas to make their parties, weddings, and homes more appealing. Candles are no more a thing only to be used for lighting but they're rather becoming an epitome of class and luxury. When it comes to floating candles, they are the most versatile type of candles, which can be used for enhancing the appearance and reflecting the décor theme of any space. The submerging of fire and water creates an aesthetically appealing arrangement. The flickering of candles creates dancing reflections on water, which cast a spell on you- captivating your eyes and soul with the magnetic aura.
7. Tealights
If you believe in the fact that a small change can have big impacts, then this little bundle of tealight candles will fill your living spaces with a captivating charisma. You can incorporate tealights with an extensive range of tealight candle holders, depending upon the type of ambiance you want to create. Pastels would do fine for a tea party, stunning metallic tones for dinners and house parties. These tealight candles can be used with hanging tealight holders and jars in outdoor spaces. If you are planning a surprise for your loved ones, then these candles can be used for writing cute messages on the floor. From the living room, bedroom to a dining room, tealight candles will be a suitable addition to any room's décor as they will add a warm and welcoming touch to your spaces.
If you are a candle enthusiast and would love to experiment with different types of candles in your home then browse through Lighthaus Candle at www.lighthauscandle.com, featuring an extensive range of scented candles and candle holders.