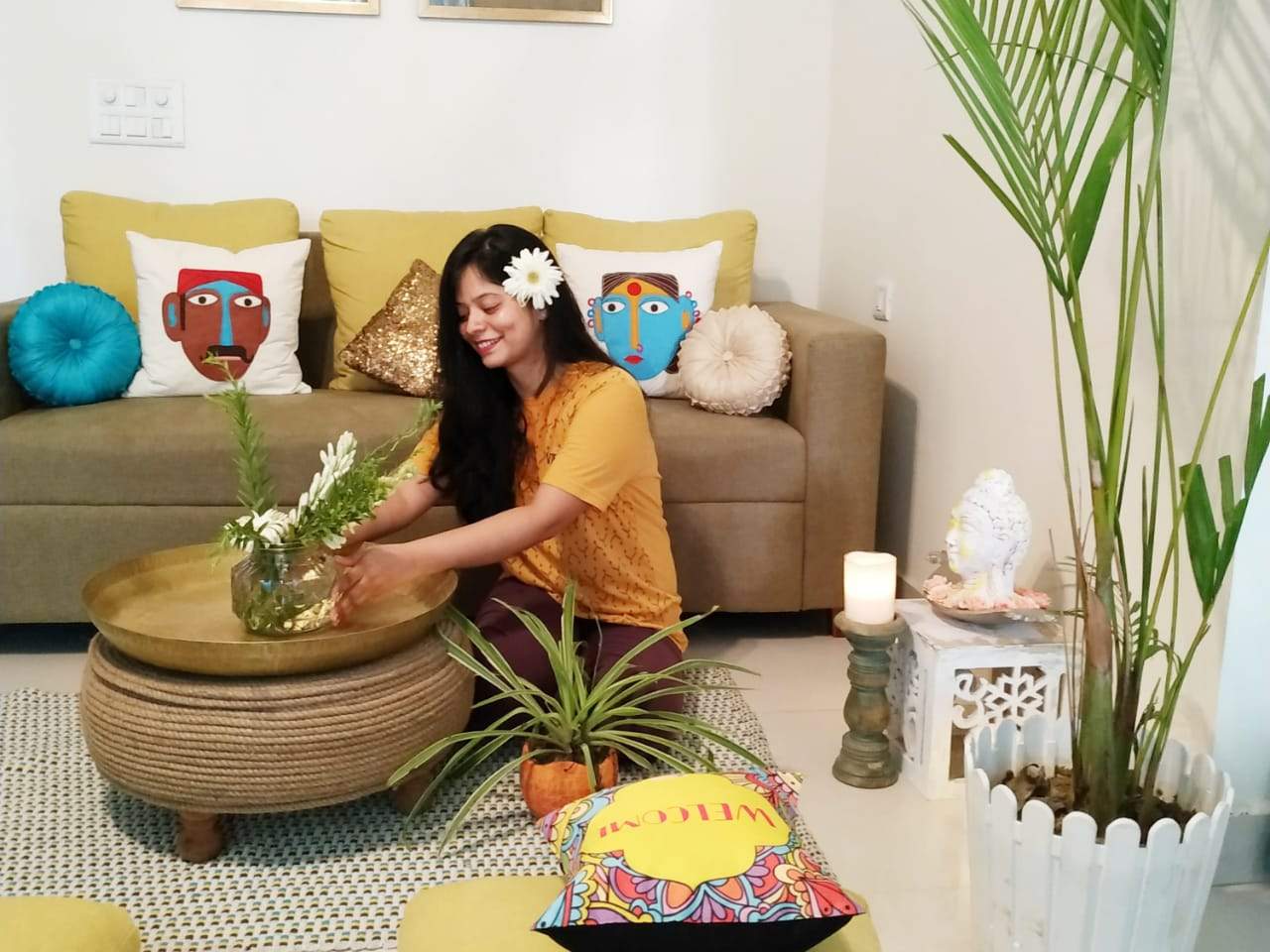 Podcast With Shradha Thakur
"The Art of The Pause" Podcast Episode 1
Calling all DIY minded lovers and Home Decor Enthusiasts for Home Improvements, this Home Decor Podcast is for you. Grab the Inspiration you need to revamp your living spaces or stock up some decor ideas for  your home's interior Design.  
 1. What inspired you to get into home décor industry?
Well, I think I have always been wanting to be in home décor and interior designing. This is an art and interest which I have acquired from my dad. My father comes from a huge joint family where keeping things untouched was certainly a task. He managed to decorate his house, keep it warm with all possible ways he could. I've grown up hearing to his stories of styling up the living room, cleaning the garden area, getting a warm feeling at home and lots of other such stuff. For me, home decoration is best explained with this quote – "a person's house is a reflection of his or her personality". I always want that people who visit my place must be welcomed with a warm vibe and should be able to feel through my home which is why I got myself so involved into home decoration. In my case, this is completely my passion which is why I just keep doing it with more enthusiasm. I come from a science background in my education, I'm a post graduate in Biochemistry and hold working experience in education department. However, since last few years I have been working on my art and have launched a YouTube channel "All about lifestyle". My inspiration to launch my channel is all YouTube channels that I have watched to understand how YouTube works, helps people to believe and live their dreams. I feel everything around me inspires me to build the content for my videos, like I find inspiration from hand painted walls on roadside, Indian handcrafted things etc. 
2. Can you remember your first design project? Can you fathom that experience into words?
While I had always been into DIYs and home décor, I remember my first project was when I moved to Delhi (a year ago) and we moved to a rental house. I had started with designing my own house in my own way. Indian and Bohemian styles are very close to my heart because they both play well with different and bright colors and makes the space look bright and vibrant. So, for my first design I went with an Indian style floor seating arrangement. I am attaching link of that video which will take you through my first ever work.It's completely a different feeling to work as an employee and as a Boss simultaneously. I had a tight budget to manage this project and which got my creative mind think in all possible directions. It was indeed a breathtaking moment when I completed my first video along with my design managing my household chores. I had always read that there is no limit to a woman who decides to be ambitious and look I was feeling through this saying. When I sit and reflect to that day, I realize that I have had many learnings of my YouTube channel as well. I have had several takes to finalize the one which will go live. Sleepless nights of script writing. Endless days of hard work put in to turn the project and meet the deadline. 
 3. From your point of view, is interior designing an acquired skill or something a creative person is born with?
I believe everyone is creative in their own way. For me, like I have mentioned earlier I have acquired this skill from my Dad, however, I enhanced it with the talent I am born with. I feel I am blessed with a creative mind which helps me build on ideas that are convenient to execute. I imagine without constraints and believe in experimenting with my thoughts. My definition of creativity is combination of thoughtfulness, imagination and experimentation. Creativity starts when you love doing what you do because it encourages your soul to express yourself without any materialism. So, for me, creativity usually dormant inside every individual, it depends on individual's area of interest and passion to polish it.
4. What is the right way of using lights in a room to enhance the overall appeal?
Light play a major role in creating ambiance of a space and mood of a person. Good lighting sparks the minute design of a room. Without a perfect light where I mean to say color and warmth of alight, specific elements does not come up as accent elements in any room. Lights assures highlighting the specific areas in the room for an instance floor lamps can be used for creating and lightening small corners, on the contrary hanging lights or chandeliers can enhance the beauty of a painting or mirror. Natural light is the best light which works for me in creating my space and videos. I would suggest that if anyone's having a huge window or balcony in their room should definitely take the advantage of it for making the space look wider and brighter. I am attaching some videos where I have shared how lights can be used in interior styling
5. Do you think that scent plays any role in setting up the right kind of atmosphere in a living space? 
Yes of course scent or aroma is the key ingredient in creating a right kind of atmosphere a person is looking for. One can create different atmosphere using different aromas like for creating calm and fresh atmosphere lemon scented candles or essential oils plays a remarkable role. Similarly, for creating happy or romantic atmosphere one can go with rosemary scented candles or essential oils. A scented room can perk up anyone's mood and can bring soothing vibes in that particular space. Aromatherapy is one such example which has physical as well as phsycological benefits.
6. How do you personally use candles and candle holders to complete a look in a particular décor type? 
I believe that candles are capable of turning any space into an oasis of warmth and coziness. For me when it comes to decorate a space, candles act as unique pieces yet budget friendly tools. I personally like to use candles in following ways
1. Table Decor: Candles as centerpieces on coffee table, for this tea light candles inside mason jars with some flower petals are my ready to go décor. Also, I love to play with electronic candles to create a glow on coffee tables. During festive season or having party at home I like to use tall candles or pillar candles or floating candles in glasses or vases.
2. Scented candles in bathroom: Whenever there are any guests arriving at home, I like to add scented candles in bathrooms instead of air purifier because candles are key elements in making the space soothing, relaxing and they can even remove the stinky smell of dampness.
3. Candles in bedroom: Candles are versatile and they come in variety of shapes and colors that's why I like to play with them in bedroom also. Burning candles do help in overcoming stress and anxiety for me.
7. Which candle and candle holder is a must have in every Indian household?
It totally depends on the choice of a person but when it comes to answer this question, I would suggest that Indian homes are characterized by their vibrancy. Here I mean to say that colorful candles or candle inside golden or lustrous metallic holder or stone studded holders are the best to be used in Indian homes and festivals. Floating candles inside any glass bowl filled with water and flower petals is another easy way to decorate with candles.