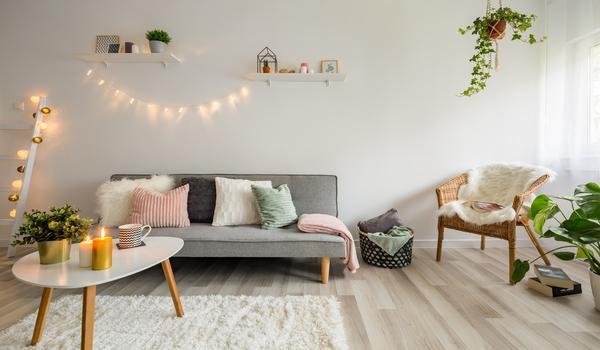 Lighthaus : 7 Tips to Hygge Your Home: The Do's and Don'ts You Should Keep in Mind While Styling Your Home
The world seems like a busy place, everyone is hustling without sitting back and enjoying the small sacred things of life in the present moment. People from Denmark and other Scandinavian countries have set examples for everyone by following a calm and cozy way of lifestyle that makes them the happiest people on earth. Since we cannot completely copy the lifestyle of The Danes but we surely can get inspired by it and try to incorporate some concepts of Hygge in our home.
How to pronounce Hygge?
The appropriate pronunciation of Hygge is "hue-gah" or "hoo-gah". The word does not have a single translation in English. It means coziness and togetherness.
What is Hygge?
Hygge is a Danish word that sums up as enjoying the simple pleasures of life. It was a concept and way of lifestyle that was discovered by the Danish and now it has become a necessary part of their culture, which is now influencing everyone across the globe. 
While Hygge is all about Danish lifestyle, it also gets reflected in their décor. The entire décor revolves around creating a living space, which is peaceful and clutter free. Messy living spaces could be the reason behind your stress, which is contradicting to the very idea of Hygge.
How to Incorporate Hygge in Your Lifestyle?
Since, it's a Scandinavian way of life that means spreading warmth and comfort, its celebrating happiness and health, here's how you can incorporate Hygge in your lifestyle by making little changes:
Enjoy simple pleasures of life
Surround yourself with family and friends
Be present at the moment, stay humble
Reuse and recycle things
Who does not like staying an extra hour in bed? Do that
Keep the stress at bay
Take up a new hobby or continue the one you left in the middle
Relax while reading good books
Appreciate the surroundings and environment
How to Incorporate Hygge in Your Home?
Here's your go-to guide that includes all the tips and tricks you should keep in mind while choosing to Hygge your home:
1. Switch to Neutral a Color Theme
Choose a neutral color theme for your home, it should never be too loud or too bright when it comes to Hygge décor. Everything you pick should relate to a harmonious and peaceful atmosphere, neutral color tones help in creating a relaxed space. You can opt for light browns, grays and ivories will surely help you in creating a comfortable space.
2. Don't Forget to Invest in Quality Candles
Did you know? Denmark and some other Scandinavian countries are the largest consumers of candles across the globe. They literally have a thing for warming glow, which exhibits from candlelight. No matter if it's scented or unscented, the warm candlelight helps in transforming the overall ambiance of your home. You can opt for warm and sweet fragrances like cinnamon and vanilla.
3. Add Texture to Your Home
When you think of cozy and comfy interiors, what exactly comes to your mind? Of course, something mushy, plushy and lusciously soft textures that will make your lounging sessions more relaxing while adding a different dimension to your interior. You can choose faux fur throws, rugs and chunky knit cushions of different sizes. Choose soft materials like cashmere, wool and faux fur, you can include different textures and colors. Do the layering while dealing with rugs and throws. When all this get combined with candlelight, space turns into the most comfortable place.
4. Upgrade Your Loungewear Collection
Comfortable loungewear does not mean that you have to invest in the luxurious ones, the economic brands are also flooded with a wide variety of loungewear. From loose plushy shirts to pajamas and night suits, you can pick any patterns and designs that will help you to get comfy after a tiring day. Opt for breathable fabric types including cotton blends or linen for summer and cashmere for winter.
5. Less is More When it Comes to Hygge
Start by cleaning up the extra stuff that you have in your home. Remove the unnecessary things that do not serve any purpose, because they're only creating clutter by being there. Choose furniture and décor accessories according to the size of your home, if you have a small living room then keep things minimal, go for a small nesting table instead of opting for a big coffee table.  
6. Don't Escape! Start Enjoying The Spaces Around You
Most people think that they need to escape to new places to get a break from their hectic life. But the idea behind Hygge is to make the environment of your home so relaxed that you don't need to escape from your everyday life. Each room of your home should reflect warmness and coziness, Hygge is changing the notion by demonstrating that with little changes in your everyday life will get you relieved from the urge to escape. So the basic idea is to enjoy what you are doing in present and take time to enjoy the little joys of life that uplift your soul. 
7. Hygge is For Every Season! Not Just Winter
Hygge is associated with comfort and coziness and it could be enjoyed throughout the year.  Have tea parties at your home, burn some candles that smell like cinnamon rolls and other baked goods. Soak sun while sipping your favorite summer coolers and reading your favorite book or magazine. You can also organize dinner parties, bonfire or a barbeque night at your home, there are plenty of options if you really want to spend some quality time with your loved ones.