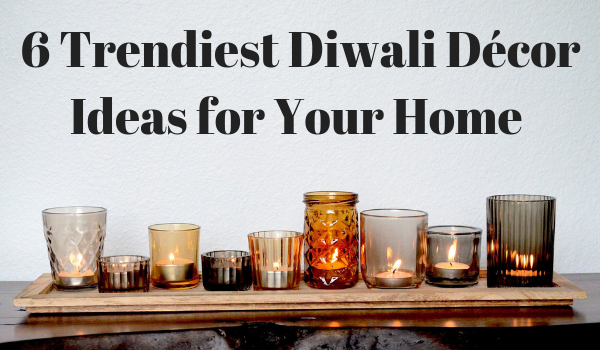 Lighthaus : 6 Trendiest Diwali Décor Ideas for Your Home
Festive season is just around the corner and we bet you are excited about Diwali, it's the festival of lights and colors. The market is flooded with flashy and attention seeking decorative items, an extensive range of candles and candleholders. What do people focus the most on Diwali? It's all about making your home look beautiful inside out, from cleaning all the junk to decorations, Diwali is all about new beginnings and new hopes, and this is why it is known as the festival of lights. But sometimes we get so busy with our tight schedules that we just don't get the time to pay more attention to our home's décor. If you are also short on time but want to do something creative with the décor this Diwali, then here are 6 creative ideas for trendy Diwali décor that would serve as last-minute decorations:
Candle Centerpieces with Flowers and Candle Holders
 Candle and flower arrangements go hand in hand, especially during the festive season. You can create your own centerpieces using candles and flowers. But usually people pick the basic marigold flowers for decorating the entire home, this year try something new.  You can pick a variety of flowers like roses and daisies along with some candles, you can pick pillar candles and pair them with gold-tone candle holders, tealights and votive candles.
Tea lights with Glass Jars
 Do you have some old glass jars lying in the house? If you're planning to throw them, please don't. You can paint them with vibrant colors for creating a Moroccan-style ambiance that will tastefully elevate your home's Diwali décor theme. If you don't want to paint them, then you can settle for some mercury speckled candle holders or tealight holders and pair them with tealights or votive candles.
Paper Lanterns or Hurricane Candle Holders
 Bring an oriental charm to your home with paper lanterns. These lanterns are easily available in the market, you can pair them wide a range of candles including tealights, votives, and small pillar candles. Just in case you want to add a modern touch, you can opt for Hurricane Candle Holders, they are getting really popular when it comes to enhancing the ambiance and décor appeal. You can use them for your mantels, tables or even garden, just pair them with tealights on decorative plates or flat platforms, and add some pebbles to finish the overall appeal.
The Evergreen Fairy Lights
Fairy lights are like the signature lighting accessory, everyone has outside their home every Diwali. This Diwali, just bring the fairy lights inside your home, if you have some beer bottles or glass vases in your home. Fill them with fairy lights, you can pick vibrant colors like red, blue, pink or the ones with multiple colors. You can form a trail on your doors and windows with these lights, you will witness the perfect Diwali vibes inside your home after lighting them up.
Wall Sconces
 Remember the traditional wall patterns that lost their importance in Indian homes because of the modern and contemporary textures? Bring traditional vibes back in your home with wall sconces candle holders. Usually, they come with a hollow space that you can fill with candles. But since it will be hanging on a wall, make sure to opt for glass votive candles, you can pick the ones in metallic colors with intricate designs for creating flickering reflections.
Floating candle centerpieces
If you are done with everything and want to settle for something that will steal away everyone's attention, then you should give some thoughts to floating candle centerpieces. Just take assorted glass vases, drop some intense red roses or carnations, you can use different colors for creating layers. Pour water and add some floating candles on top to get the look.
If you're looking for options to buy decorative scented candles then Lighthaus Candle brings you an extensive range of candles that will not only elevate the decor standards but also the overall ambiance of any room. Check out our collection at https://www.lighthauscandle.com/