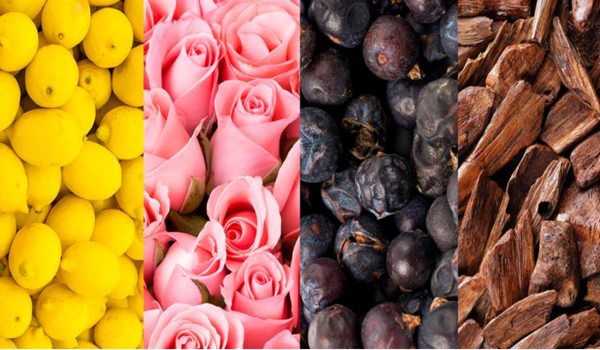 Lighthaus : Decode Fragrance Notes Just Like a Pro
Scent is one among the most powerful senses that we are blessed with – fragrance plays a vital role in our daily lives as a whiff can take us to an aromatic journey that reminds us of that amazing hotel that you visited during your getaway, the perfume that your girlfriend wore when you hugged her for the first time and how fresh the restroom of your favorite brand's smelled. Have you ever imagined living without the sense to smell? Humans tend to recognize things by the way they smell and losing our senses will surely make the world so basic and hard to live in, can't imagine drinking coffee without its aroma. Have you ever thought where the fragrances came from and how each smell is different from the other? Let's take you on a journey of fragrances where you will discover things you didn't know about different types of fragrances:
1. Floral
Floral scents could be light or heavy and they are garlanded with hints of floral notes like lavender, rose, jasmine, lilac, peony, gardenia, magnolia, and mimosa. Floral fragrances unfold with a bouquet of flowers and they're feminine, you can easily recognize them from just a whiff. Two floral notes are commonly found in most of the fragrances, which are rose and jasmine. These types of fragrances remind you of the spring season when the fresh farms of flowers are blooming adorned by a pleasant weather.
2. Woody
The woody fragrances are rich in aromas, they are one of the most natural scents and include hints of cedar, moss, patchouli, and sandalwood. Woodsy scents are often used in unisex fragrances because they're mysterious and warm and you need to dig deeper to recognize them. If woody fragrances had a season that would be autumn or fall season because they remind you of the forest, nature, and earth.
3. Citrus
Citric aromas are zesty and bright, you can feel a rush of energy and freshness when you take a whiff of them. These aromas are derived from grapefruit, orange, lemon and mandarin reminding you of refreshing summer margaritas or pink lemonade. When you smell them you feel a sensation of liveliness just like you're running into the summer fields on a hazy day.
4. Fruity
Fruity fragrances are sweet and juicy, we bet they will surely remind you of your favorite fruit punch of salad, the fruity notes are light, inviting and vibrant. Imagine juicy fruits sliding down your mouth on a sunny day, they are the show stealers in any fragrance that contains fruity notes. You can easily recognize them because they're pretentious and are derived from figs, peaches, raspberries, mangoes, and cranberries.
5. Fresh
Fresh fragrances are cool like an ocean, they're light and aquatic just like crisp mountain breeze, fresh cotton or linen. Who doesn't love the smell of fresh linen bed sheets? These aquatic notes are widely used in colognes, home fragrances, and air fresheners. So, if you are looking for subtle fragrances then fresh scents are a good choice, people often wear these fragrances to work and other official events.
6. Spicy
If you are a believer of sugar and spice and everything nice, then this is what sums up these fragrances. Cinnamon rolls and ginger breads are something that well defines this aroma, usually spicy scents are derived from cinnamon, nutmeg, star anise, ginger, cardamom, pepper, clove, and thyme. They're warm and welcoming, perfect for the winter season. Spicy notes are most commonly used in men fragrances and are capable of making any man smell irresistibly amazing. 
7. Sweet
For those who are always drooling over baked goods, sweet fragrances are the ones that keep them going. Have you ever wondered from where do the sweet fragrances come from? If sweet aroma makes you think of that vanilla cookie you had while sipping hot chocolate then you have some good smelling senses. All of our sweet fragrances are derived from vanilla sticks, almond, caramel, and amber.
8. Green 
Nature lovers are obsessed with green fragrances, these aromas are herbaceous and reminiscent bay leaves, grass, green tea, peppermint and bamboo. Can you recall the fragrance of morning dew and grass while taking a walk around the park? This is how these fresh and invigorating fragrance smells like, they're earthy, herbal, refreshing and relaxed. These type of fragrances are commonly used in sporty EDT', body sprays and natural smelling home fragrances.