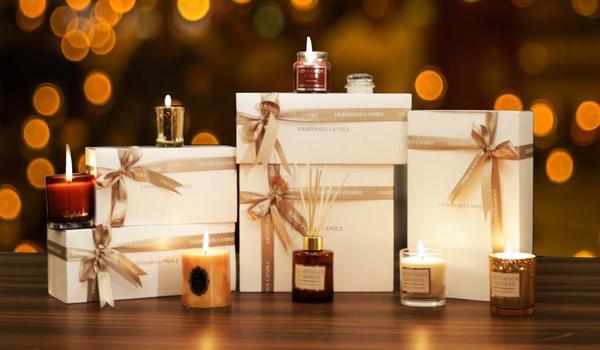 Lighthaus : What To Expect From Our Exclusive Diwali Gift Collection
Diwali is one of the most awaited festivals in India, the whole month is full of festive vibes and the market is flooded with décor accessories, sweets and gifting options. It's like a grand celebration that everyone waits for throughout the year, so did you start pondering your heart over this one ancient question of what to gift this Diwali? Are you still going to stick to the gifts that you have been giving since ages or are you thinking to expand your horizons this year? We suggest you to ditch those celebration boxes and try something unusual this year, something that your loved ones will cherish at least for some time. We have launched a gifting collection that revolves around Diwali and serves a purpose, here are our 7 handpicked gift sets to keep you rolling: 
1. Set of 9 Votive Candles with 3 Mercury Speckled Votive Holders
Our set of 9 Assorted Votive Candles with 3 Mercury Speckled Votive Holder is something that comes with versatility. Each votive candle comes with an assortment of unique fragrances and colors, different fragrances can be mixed matched for creating personal aroma blends for each room. No matter whatever style, these candles will serve as accent pieces to make a house feel like a home. 
Décor Tip: Pair votive candles with mercury speckled holders and place them in a pair or individually on countertops, coffee tables or shelves. Pair them with metallic vases and flowers for creating centerpieces and witness amazing flickering reflections.

2. Reed Diffuser and Scented Glass Candle Combo

The combo of Reed diffuser with Scented Glass Candle is something you can't miss out. The reed diffuser comes with a unique blend of essential oils that will keep any living space fresh for more than 3 months. The glass candle looks and smells like sheer luxury, the warm glow of candlelight will adorn any table or shelve.

Décor Tip: Reed diffuser can be placed in bathroom while the scented glass candle can be placed in any room for uplifting the ambiance, pair it with flowers and other décor accessories.

3. Set of 3 Assorted Tin Candles

Our assorted set of 3 scented tin candles will surely delight your dear ones, as they come with three unique fragrances including French lavender, Vanilla caramel and English rose with festive packaging in eye-pleasing gold tone. These travel tin candles come very handy, they can be carried as a travel accessory on weekend getaways or vacations. Once the candle is over, these tins can be reused as storage boxes for small accessories.

Décor Tip: You can use these tins for elevating the décor and ambiance of your basic hotel rooms, these tin candles look stunning even when they're not burning. So, use them as a décor accessory for your TV wall units, shelves or bedroom.

4. Set of 3 Scented Pillar Candles with Gold Leaf Pattern

This set of 3 scented pillar candles will surely delight your dear ones, as they come with enthralling aroma and wrapped in intricately designed gold leaf patterns that compliment the festive vibes. No matter what the décor theme is, these candles will serve as accent pieces to make a house feel like a home.

Décor Tip: These pillar candles can be used altogether with pillar candle holders for creating a centerpiece or individually in each room. Pair these candles with mercury speckled votive candles in living room for a perfect Diwali décor.

5. Set of Three Classic Jars

Our set of 3 classic jar candles is sure to be your favorite pick, as they come in three unique colors and fragrance. They will add a pop of color to any basic space while filling it with an exhilarating aroma. Jars can be used as tealight or votive candle holders once the candle is over, can also be reused for storing small accessories.
Décor Tip: These jars look beautiful even when they're not burning, they will also not ruin your exclusive furniture pieces. These jars can be used altogether in a group or individually, you can pick one fragrance for each room.

6. Jewel Glass Candle
Our luxurious Jewel Glass Soy Scented Candle will sweep everyone off their feet. The glass features intricate designs and textures followed by a wavy rim and shimmering gold finish making it a perfect décor accessory for any living space. This glass candle looks absolutely stunning even when it's not burning and the charm doubles up when it's lit. Once the wax is over, glass can be used as a candle holder by pairing it up with votive and tealight candles. No matter whatever style, these candles will serve as accent pieces to make a house feel like a home. Our exclusively crafted candles come nicely packed in designer gift boxes, which make them a perfect gift for any occasion.
Decor Tip: place it on coffee tables in living room or corner tables in bedroom. You can use it as a centerpiece for mantles and countertops.

7. Scented Soy Glass Candle in Ivory

If you're looking for a gift, which is simple yet replicates luxury then our precisely crafted Scented Soy Glass Candle in ivory color will surely be your favorite pick. Our soy candle is absolutely natural as it is made with natural soy wax, European cotton wicks and intense amount of essential oil blends. Soy candles come with twice the burning hours of any other candles and a strong scent throw that will keep any living space smelling good for a long time.

Décor Tip: The ivory color will complement any décor theme, pair it up with some indoor plants for a minimalist look in your home.
If you're still confused then you can browse through our entire gifting collection at https://www.lighthauscandle.com/collections/candles-for-diwali-gifting