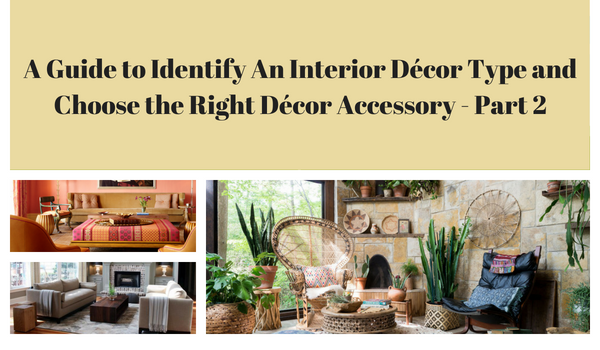 Lighthaus : A Guide to Identify An Interior Décor Type and Choose the Right Décor Accessory - Part 2
Remember the last home decor blog that we ended by saying we will be continuing the same blog with its second part? So, we are here with the continuing series of the same blog with more home decor types and right decor accessories according to them. Here you go: 
 Indian Décor
As they say, India is full of colors and life, so this reflects in their homes as well. A collaboration of multiple colors, patterns, and textures that come together to form a beautiful blend of culture and traditions. The décor is not at all subtle and you will see a lot of artwork in furniture, wallpapers, floorings and along with the usage of multiple fabrics.  The furniture gets a lot of attention because of the intricate wooden carvings, which gives out a more luxurious appeal if its hand carved.
 Colors and Décor Accessories to Opt
The color themes in Indian décor are rather warm with hues of yellow, red, orange, brown and mustard. A lot of stress is given to accent furnitures like side tables, ottomans and storage shelves. The accessories that fit well in this décor are statues of gods, artistic carpets and curtains in silk, velvet or jute fabric. Exclusively designed tealight holders that create beautiful patterns around the surface, the ones with ideas of god carved on them will surely look amazing along with other gold tone candles. As the color gold plays an important part in Indian décor, it reflects luxury.
Industrial Décor
When it comes to Industrial Décor it is rather a mix of rustic and fragmentary features that creates a rather studio like appeal. This trend got popular when people started to give a creative touch to their old factories and workstations, making them appear like a studio apartment. You will notice open floor spaces, large windows, exposed ducting and pipes along with bare brick and cement walls. The furniture is rather made of metals, windows also feature metallic frames made of aluminum or steel. The lighting fixtures also feature a rustic metal finish and the design is rather basic.
Colors and Décor Accessories to Opt
If you want to incorporate industrial décor in your home then you can choose studio inspired lighting accessories like standing lampshades for floors and tables. Go for metal bookshelves, large wall clocks, and basic furniture with unfinished touch revealing actual wooden patterns. You can choose natural colors that sum up to hues of grays and browns, opt for pure white, brown décor accessories for complementing the overall set up. Lastly, rustic candle holders that are made of metal and wood will look absolutely stunning with triple tone or rustic pillar candles.
Transitional Décor
Transitional Décor is all about fabrics and their textures complemented by suitable colors and an ideal amount of home décor accessories. It has a mix of two décor types that collaborate to form a unique décor. The furniture in this décor is a mix of curves along with clean lines, traditional sofas upholstered in abstract and modern prints land up in this category. Wooden block coffee tables and other accent furniture upholstered in khaki, taupe, cream, and grey color fabrics make the whole décor set up more appealing.
Colors and Décor Accessories to Opt
You can decorate the living spaces in this décor with shag rugs, throws, ottomans and colorful cushions for accenting the décor. The colors are warm and neutral and help in making the room appear bigger and more welcoming. You can also add centerpieces to tables by combining votive candles on a wooden tray for adding a luminescent glow.
Bohemian Décor
For those who do not like to be organized and rather like to be lost in the chaos then bohemian décor is sure to bring you all the comfort. As the name says, this décor trend is rather carefree that does not follow any sort of rules. It's an eccentric mix of comfortable furniture pieces and accessories, consisting of variable colors, designs, and textures. Spirituality is rather welcomed and more stress is given in creating a home full of positive vibes. You will see a lot of colorful wall hangings with ethnic artwork and mirror work on walls and windows.
Colors and Décor Accessories to Opt
Vintage décor accessories are chosen over the modern ones, the color theme is bright and vibrant. You can expect sunny yellows, oranges, reds, greens, blues and quirky pink in this type of décor. Sometimes people also avoid using sofas and rather settle for floor mattress covered with a colorful bed sheet and cushions. Colorful glass candle holders, lanterns, hanging lighting accessories is much preferred over LED lights.
Art Deco
Are you still stuck in the Jazz Age? Then we assure you that you will love this décor type. Since it's all about bringing back the lost old school charm of the 30's and 40's when all that glittered was gold. It's all about bold monochrome elements, luxurious furniture with leather finish and classy décor accessories including giant chandeliers. Flashy mirrors with extravagant gold frames, saxophones, rifles, cigars and scotch placed near fire pits. All furniture exclusively features a glossy lacquer or enamel finish with geometric shapes.
Colors and Décor Accessories to Opt
Since the décor theme is inspired by art, monochromes are widely chosen with a hint of bright red, pink, gold, silver and maroon for enhancing the appeal. The right décor accessories could be an old phonograph, huge candle chandeliers, large metallic vases, and zebra or leopard print rugs. Lots of gold tone candles or candle holders, placed on black high gloss finish countertops or tables will surely look stunning.
If you are not being able to find the candles or candle holders that will match with your home decor type, then Lighthaus Candles has the right decorative candles and accessories for you. A huge collection of scented candles, candle holders, and centerpieces combos is just one click away. Browse through our extensive range at https://www.lighthauscandle.com/